Cast Resin Transformers (CRT)
Cast Resin Transformers (CRT)
Cast Resin Transformers are specially adequate and reliable for installations which require extreme Safety Standards, Reliability and Environment protection. Low and High Voltage windings built in Aluminium and embedded in resin class F or above, are the best solution when we look for non-pollutant, fireproof qualities and the compliance with the E2-C2-F1 standards. These transformers are designed for indoor use, however if installed in the appropiate IP cabinet they withstand outdoor conditions. Designs up to 36 kV are already available.
Major advantages:
Compact design. They do not require significant area/volume to be installed.
Easy installation. They can be located straight next to the load, without need of special fitting-out or installations, like pits, firewalls and/or special foundations.
Very low fire risk. Building materials with autoextinguishing capacity, make unnecessary the use of special precautions against fire.
Minimum Maintenance. Free cooling liquid design. Only requires periodic cleaning and check of connection tightening.
High capacity in front of temporary overloads. The design with low current density windings and high thermic endurance resins permits a high capacity to withstand short-term overloads. Tables below show the behavoir according to room temperature and load status (as % of nominal power) prior to the overload.
Important Power Reserve. The addition of forced ventilation allows the increase of the nominal power up to 25%.
Environmentally friendly. Once the transformer is completely manufactured its components are non-contaminant and in case of generalized room fire or a fire produced by the transformer, toxic gas emissions are insignificant.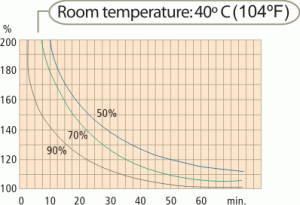 Quality, Health, Safety & Environment
Installation and Maintenance Manuals