Technical-commercial mission to Peru
Peru is a market with an interesting demand projection, based on the extensive development of infrastructure works in various sectors and the need to adapt to the global trend regarding safety and environmental care.
Based on current statistics, it represents one of the three main regional economies measured by its growth rate, with a high incidence of construction projects and a sustained growth forecast for the next five years.
True to its positioning policy, in October 2013 Tadeo Czerweny made a technical/commercial presentation of its epoxy resin encapsulated transformers.
Engineers Eduardo A. Mindel and Juan Ignacio Parigi, representatives of the company, were in charge of developing a series of technical topics before a very important audience in one of the halls of the Hotel Estelar in Miraflores, Lima. After the lectures, the closing ceremony was crowned with a cocktail party that allowed the attendees to get to know each other better and establish commercial ties.
The continuity in this market is guaranteed due to the support of a local representative who has a network of very interesting contacts and the support of a vast experience in the commercialization and service of transformers.
Translated with www.DeepL.com/Translator (free version)
Towards the end of 2013, three encapsulated transformers were sold to an important industrial company in Lima. These are large transformers for this type of product (5000/6000 kVA AN/AF), which have been at their destination since April of this year, awaiting the customer's notice to proceed with their commissioning.
The second stage of the expansion of the encapsulates manufacturing plant is in full execution and the machinery is expected to be fully operational by mid-2015, which will more than double the current production capacity.
Why is aluminum recommended instead of copper?
The wires, sheets, foils or tapes used for both high and low voltage windings are made of aluminum. Aluminum is not used, as is often thought, for economic reasons, but for technological reasons.
The coexistence of materials with different thermal expansion coefficients in a solid finished product inexorably requires that such variables be almost equal or at least very compatible with each other.
For a better illustration of the subject, the thermal expansion coefficients of the materials potentially involved are shown below.
Translated with www.DeepL.com/Translator (free version)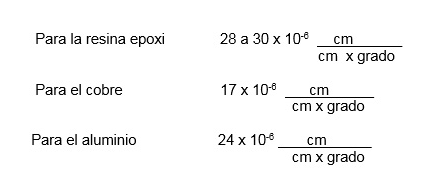 These data refer to a 1 meter high coil, at 100ºC of gelling temperature (after the hardening period of the epoxy system).
After analyzing the above, it can be deduced that the use of copper would cause, due to the sudden temperature changes in service, harmful mechanical stresses that do not occur with aluminum, since there will not be an over-solicitation of mechanical stresses in the epoxy system.
It is evident that with these values of expansion of aluminum/epoxy, an unlimited field of power ranges and service stresses is opened. These would be restricted if copper were used in the windings, since all the parameters of the system would be very limited and also conditioned to the addition of elasticizers to the epoxy technological cycle, substances of unpredictable behavior both in their formulation and during service in the finished product.